5 WEEKS INTENSIVE PERSONAL BRAND CAMP
"Fast Forward Your Visibility"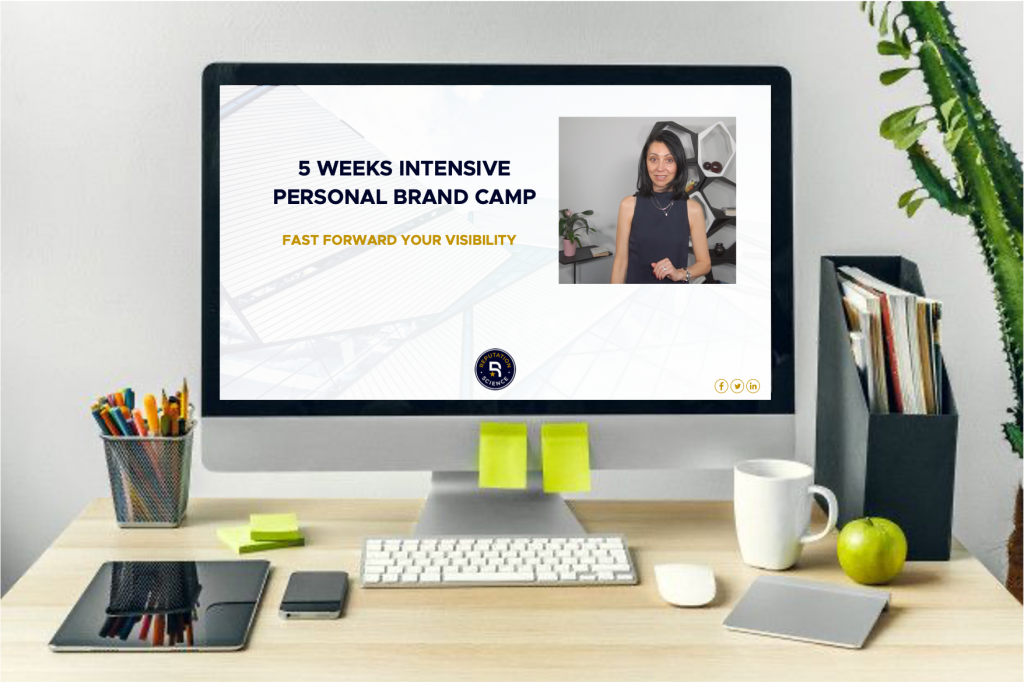 A 3-step in-person program to build your personal brand, shape your reputation and boost your visibility 
(without losing your values).

Anyone And Anything Can Become a Brand.
Anyone Can Have a Personal Brand.
In the world we are living today, your Personal Brand is your Reputation, a measure, and control of everything and anything you do. Our brand or reputation defines who we are and what we stand for. A good brand and reputation never hurt anyone. Unknown brand or bad reputation will make it hard to prosper. Is that something your want?
Whether you are an entrepreneur, a business leader, an executive, a college graduate, a solopreneur –
Your Personal Brand Matters. 
Decide how you want to be seen, become known for who you are, and what you offer to this world. 
Add Visibility power to Someone you.  Become the #Unique -You.
5 sessions (2 hours each) 
Define your personal brand identity: what makes you different, your unique traits, skills, and what value you create for others

Get the tools to position yourself in professional life, develop your 'stand out' personal story

Create various content for 'living' your brand 

Get access to brand tools and templates 

Devise your personal brand plan and a communications strategy for launching and thriving your brand 
To leverage your personal brand to be known for who you are, your skills, values, and accomplishments  
To gain social recognition and influence
To create opportunities to close new deals or get hired
To create competitive advantage for yourself or you services
To gain negotiating power
Create new partnerships

To gain trust and respect from various stakeholders.   

To set yourself up for growth and new opportunities 
PHASE 1: DEFINE YOUR BRAND
The foundation of any brand is a unique identity that makes the brand stand out and be different. It is how the brand looks, sounds, how it makes people feel, what it stands for and what values it brings out.
In this phase, you will go through several exercises and learnings to understand and refine what makes you or your product different and unique and what should be the core of your brand positioning. You will define what your brand stands for, what it represents and how you want it to be seen.
Build your brand house:
Define your Brand: its values, audience, traits, strengths, audiences, the big why.
Identify your Brand differentiators
Create your Brand Promise and Brand Positioning
Develop your Personal Brand Plan
Get a checklist for your Visual Brand identity
PHASE 2: BUILD YOUR BRAND CREDIBILITY
Putting your Brand House in motion.
Add colors to its voice and personality. Find the ideal [online and physical] space for your brand to blossom. Build a community of brand's friends, influencers and supporters. Start living the brand. Know your next steps.
Go through this phase to master your brand, earn the trust and credibility of your audience.
Learn the laws of personal brand and reputation
Define your Brand voice
Develop your Personal Brand story
Build your Personal Brand Guide
Create a set of communications templates: your bio, tag line, social media profiles, product or business name, etc.
Devise communications strategy for your brand: online & social media channels, events, offline networking, media, etc.
Living your brand. Enhancing your reputation.
Complete your Branding Journey.  Grow, expand and perfect your brand:
Show, tell, and lead
Nurture and cultivate your brand
Learn, analyze, adapt.
Our #Brand programs are based on our personal experience of branding and re-branding multinationals, small and medium businesses and start-ups.  We worked plentiful to position companies and individuals, win markets and build one's credibility. We bring a mix of practical tools from training top leaders to be broadcast stars and keynote speakers. Behind the scenes, there is also a lot of expertise in protecting or winning back anyone's reputation in tough times.
Looking to build your brand, share your great stories, or need to protect your reputation? Book a call to explore how we can help.
Questions, ideas, suggestions? Send us a message and we'll get back within 48 hours. 
Contact us
Lausanne, Switzerland | +41 79  5585951 
Denver, CO, USA  | +1 303 4751945 info@reputation-science.com

© 2020 Reputation Science. All rights reserved