What Everybody In Business Ought To Know About Crisis Management

A crisis reveals all our vulnerabilities and strengths. The way we manage a crisis reveals our true personality and leadership. We either 'make it or break it'. Today, no organization is exempt from any type of crisis. Total prevention is impossible.
People fail to recognize a sheer number of things that can go wrong when a crisis hits: impact on your employees, customers, partners, your business continuity, your reputation.

Do it wrong, and you will be dealing with damage control, lost credibility and reputation for a very long time.

ENSURE A SOFT LANDING IN CRISIS WITH OUR SIGNATURE PROGRAMS AND TRAININGS
PROTECT YOUR BUSINESS. SAVE YOUR BRAND AND REPUTATION.
DOWNLOAD OUR ULTIMATE CRISIS RESPONSE CHECKLIST
10-STEPS PROCESS FOR EFFECTIVE CRISIS MANAGEMENT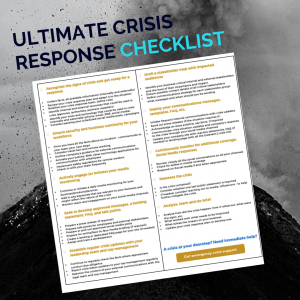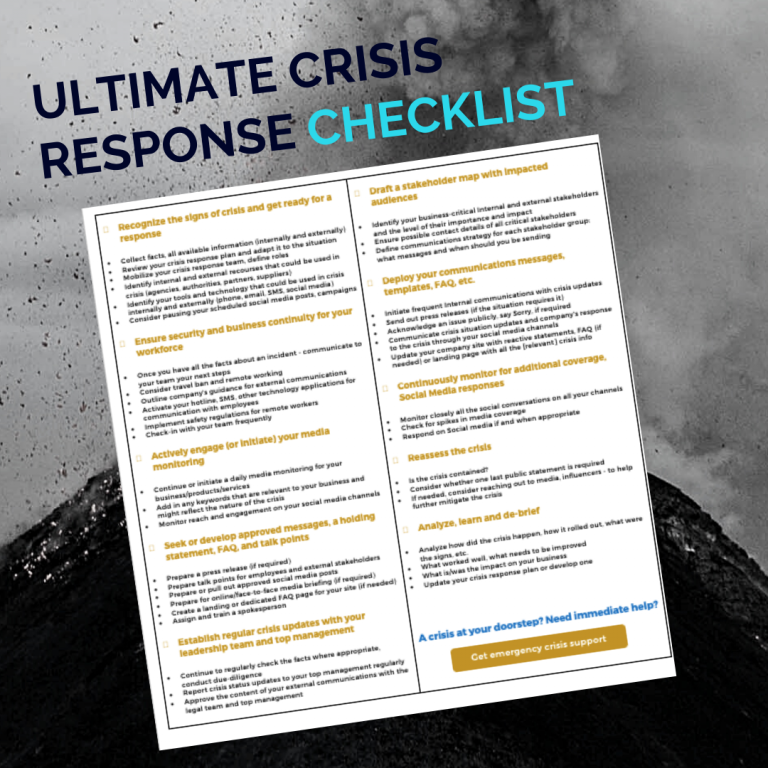 WHAT IS YOUR WORST CRISIS SCENARIO?
Natural disaster, financial crisis, reorganizations, cybersecurity, data breach, product supply issues, work accidents, terrorist attack, factory shut-down, changes in your top management, outbreaks and pandemics, social media complaints, corruption incidents, IT system malfunction, challenges with distributors, something else?
ANTICIPATE, PREPARE AND MANAGE IT.
We provide  world-class trainings and simulations to prepare you for your worst business crisis  
We have your back. Virtually, or in your 'war room' 

– when things take an unexpected turn

We hold and teach 5 key lessons learned from global crises experiences
We offer a 10 steps approach to guide you through any business crisis
If you don't have your crisis response plan yet, we'll develop one for you
All of it. Or any individual program and service is there for you 
Our programs and approaches have been

tested and adopted

by top

Fortune 500

companies   

 

We have dealt with your worst crisis scenario before. And we don't want a good crisis go to waste.
Knowledge, and confidence to get through a crisis
Reliable partner, hands-on support in times of a crisis
Access to the set of tools and procedures to handle any crisis  situation for your business
Best practices for employees' safety and business contingency
A crisis response plan and a relevant checklist for any potential crisis for your organization
Tools and a great deal of practice to manage your personal, and organizational response to a crisis
Customized communications templates and social media responses for various crisis scenario
Insights on proven strategies for effective leadership in a crisis
Ability to make decisive choices to ensure business continuity, save your brand and reputation.
NEED IMMEDIATE HELP TO MANAGE A BUSINESS CRISIS?
Our Signature Crisis Management Programs and TrainingS
The glue behind

Crisis management
Engaging and interactive crisis management preparedness trainings and simulations. In-person or virtual. Experience-grounded. Fully customized to your business and teams' needs.
Gain insights and practical skills to navigate through a crisis, mitigate your risks, protect your business, save your brand, and reputation.
Get immersed into theory, learnings, and practical models of crisis management 

Test your resilience, personal and corporate response to a crisis

Collect the knowledge of a leadership philosophy in times of crisis
Exploit and adopt best practices of business continuity in crisis
Develop and test your best crisis response

to the public and the media

Master our crisis response model to make the right choices, s

ave time, money, and protect your reputation.
Download a PDF brochure.
Top down

Leadership in Crisis
Self-Paced Online Training
This interactive (and extremely practical) course is built on real-life crises experiences of two different companies, where their leaders share first-hand knowledge, lessons, and mistakes. As you work through the course, you'll follow the exercises, get advice from the crisis expert and learn how to build your own crisis preparedness plan.
Planning for the unplanned
Preparing for a crisis response
Managing and learning from a crisis
Crisis Response strategies
Employees safety and business continuity
Knowing your key stakeholders in crisis
Attending to social media in times of crisis
Communications in times of crisis
By the end of the course, you'll develop a crisis plan, establish your stakeholder map, pick your top learnings, and create communications templates so you can act quickly when a crisis occurs, protecting your business, customers, employees.
Potential Social Media Crisis?

We got you covered
Whether you are a start-up or giant like Google, the way you handle a crisis on social media matters.  Join our interactive and engaging workshops and simulations, learn the signs of upcoming social media crises and master your response tactics.
Learn from the social media crises' experiences of world-leading brands.

Find out 

how to recognize the signs of a social media crisis.
Discover when and how you can use it to mitigate your social media storm.
Create and practice social media messages that are consistent, and credible. 
Duration: 1.5 h – 2 h. Download a PDF brochure.
NO MORE STRESS WITH your

Crisis response plan
Work together with us to identify possible crisis scenario for your business and develop your own Crisis Response Plan. Work out a plan to prevent the issue from occurring again and avert a range of possible crises.
Perform risk and issue analysis for your business.

Follow our 10 steps approach to develop a crisis response plan for each possible scenario for your company.

Identify your crisis response team, chain of command, set roles and responsibilities for your team. 

Create a set of tools and your best crisis responses to the public, employees, authorities, and the media.

Duration: 2.5 h – 4 h.

Looking to build your brand, share your great stories, or need to protect your reputation? Book a call to explore how we can help.
Questions, ideas, suggestions? Send us a message and we'll get back within 48 hours. 
Contact us
Lausanne, Switzerland | +41 79  5585951 
Denver, CO, USA  | +1 303 4751945 info@reputation-science.com
Linkedin

© 2020 Reputation Science. All rights reserved